Tue

20

Mar

2012

| | | | |
| --- | --- | --- | --- |
| Spain or Europe? A Question of Priorities | | | |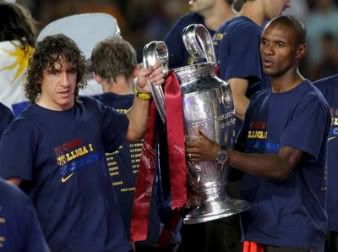 FC Barcelona is in a rat race for trophies.  Every year is a war against Real Madrid for La Liga, Copa del Rey, and Spanish Supercopa.  Every year is a battle against the best of Europe for continental glory.  All of us want to see Barcelona display the best style, while continuing to pile up trophies.  It irks me when I find any competition in which Barcelona is not king.
Barring a rash of devastating injuries or a horrible drop in players' talent, FC Barcelona is virtually guaranteed to compete on three fronts every year: La Liga, UEFA Champions League, and Copa del Rey.  While we all can agree that the Copa del Rey takes a back seat to La Liga and European competition, a more difficult question arises when attempting to prioritize the first two.   It is a question that I have been struggling with for the better part of the season.  Before analyzing the competing merits of La Liga and Champions League, let me unequivocally state that, like Pep Guardiola, I value every trophy and believe that every competition is vitally important to win.  So, even though the Copa del Rey is the third priority, it must be won and that means the squad must possess a sufficient depth of quality to deploy a quality side for this competition.
Barcelona fans need no reminding that we trail Real Madrid 31-21 in league titles and 9-4 in European Cup/Champions Leagues.
How, then, should the club prioritize its two most important competitions?
For most of my life as a fan, there has been no question in my mind that La Liga is the tournament to win.  The argument is clear to any long-time fan: a 38 game schedule in which every team plays home and away against all 19 opposing sides.  Putting aside refereeing decisions, the weather, and injuries, the setup of the tournament is remarkably fair and straightforward.  The competition rewards consistency.  The best team usually wins.  Winning a league title is not an accident.  Winning a league title is synonymous with excellence.
The Champions League is designed differently from a domestic league or cup competition.  It features both a group stage and knockout rounds, the combination of which makes it highly unlikely that an overwhelming underdog can get very far.  Yet, the format also keeps the overall favorite vulnerable. This stands in contrast with domestic cup competitions, which feature only single-elimination or two-leg rounds and allow one great game to change the nature of the competition.  Surely, a single outstanding performance can change the course of the Champions League and "the favorite" does not always win.  However, rarely does a true "underdog" lift the trophy.
Domestic leagues do not have many realistic competitors.  La Liga has been a two-horse race for years.  The English Premier League has been, for this year anyway, the Manchester derby.  The Champions League takes the top performers from UEFA's constituent leagues.  The number of entrants varies by country, weighted according to the strength of each nation's domestic league.  The quality of competition in the Champions League is the best of any competition in international football.  Most fans watch only one domestic league, but everyone watches the Champions League.  It can be reasonably argued that no team sports competition is as prestigious.  Yes, I am including the FIFA World Cup.  The World Cup excludes many world class players and includes numerous weak teams.  The last winner of the World Cup, Spain, is a demonstrably inferior side to FC Barcelona, Real Madrid, and possibly Manchester City.  The Champions League is the best opportunity for the world's most skillful players and potent squads to prove their mettle against their peers. In 2006, Barcelona beat Arsenal in the Champions League final.  In 2009, Barcelona conquered Chelsea and Manchester United.  In 2011, Barcelona dispatched with Arsenal, Real Madrid, and Manchester United.  Lionel Messi has shown his true value and superiority by virtue of his Champions League displays.  Quite simply, beating the likes of Levante, Real Betis, and Rayo Vallecano just isn't the same.
There is an argument that a cup competition can be one by a one-dimensional team, but it is not an argument that I am buying.  Barcelona won the title in 1992 with an offensive-minded side and finished runner-up in 1994 with a similar collection of players.  But 2006, 2009, and 2011 featured complete teams.  Most Champions League winners have been well-rounded.
If I had to choose between the two, I would take the Champions League over La Liga.
I know this will bring out serious differences of opinion.  Let the debate begin.
Powered by Joomla!. Designed by: Joomla Template, .tv domain. Valid XHTML and CSS.