Tue

03

Apr

2012

| | | | |
| --- | --- | --- | --- |
| Barça defeat Milan 3-1 and advance to their Fifth Consecutive Champions League Semi-Finals. | | | |
 

FC Barcelona defeated Milan 3-1 to book a trip to their fifth consecutive Champions League Semi-Finals. Barça took the lead in the 10th minute when Messi converted from the spot after he was brought down inside the box by Antonini. Milan got their crucial away goal in the 32nd minute courtesy of Nocerino. Fortunately, Barça took the lead again, and for good, when they were awarded a second penalty a few minutes before the break when Nesta was caught pulling Busquets's shirt inside the box. Messi once again stepped up and converted his penalty for his record tying 14th goal in Champions League. Blaugrana fans were able to relax a bit when Iniesta grabbed his side the insurance goal eight minutes into the second half. The only sour note was Pique's substitution in the second half after he felt some discomfort in his leg but the club reported afterwards that he did not suffer a long term injury. So the Semi-Finals beckon again and Barça will know tomorrow if their opponents will be either Chelsea or Benfica. Barcelona will now shift their attention to league play when they travel away to Real Zaragoza this weekend.

 

Guardiola had a difficult encounter on his hands today as his side hosted Milan after playing to a scoreless draw in the first leg last week. Anything but a win was going to make his night difficult. As usual, Guardiola fielded a different lineup with one major surprise when he opted to start Cuenca over Alexis and Pedro. In goal was his trustworthy number one keeper, Victor Valdés with Dani Alves, Piqué, Mascherano, and Puyol filling in as left back and completing the back four. The midfield consisted of Xavi, Busquets, and Cesc supporting the front three of Cuenca, Messi and Iniesta.

 

Barça came into this match with their offensive style of football and Messi fired two early warning shots at Milan. In the fourth minute, a Barça counter-attack resulted in Messi getting a shot on goal that was stopped by Milan's keeper, Abbiati. Two minutes later, Messi was presented with a great scoring chance when he was the recipient of a great pass as he was alone in front of the Milan goal. Sadly, his shot at the far post trailed just wide. A few minutes later, Messi would make sure not to miss his next shot.

 

In the 9th minute, Barça were awarded a penalty after Messi was brought down inside the box by a sloppy tackle by Antonini. Messi stepped up to take the penalty, with green lasers aimed at his eyes, and calmly slotted it towards the left post which was enough to get by Abbiati who guessed correct. Messi's goal was his 13th goal in the Champions League which is a new modern record after tying Ruud van Nistelrooy's record of 12 goals last season and this season. That goal was also his 50th Champions League goal.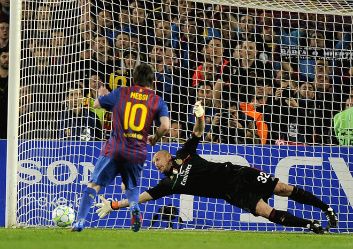 Messi could have doubled his side's lead in the 25th minute when his shot on goal failed to threaten Abbiati. Barça would rue that missed opportunity seven minutes later when Milan scored the equalizer. Sloppy defending in the back saw Ibrahimovic deliver a great pass for the sprinting Nocerino, who was played onside by Mascherano, and the Italian did not waste his scoring chance. The game was now level and Milan were in the driver's seat thanks to their precious away goal.
Fortunately, Barça did not hang their heads and kept pushing forward in search of the go-ahead goal. In the 35th minute, Xavi saw his great effort from outside the box force Abbiati into making a great save. Cesc would also be denied a few minutes later but Milan's Nesta made things more difficult on his teammates when he pulled Busquets shirt inside the box and the referee pointed to the spot again four minutes before halftime. Once again, Messi stepped up and converted from the spot by sending his penalty to the right post this time, and thus fooling Abbiati who guessed wrong this time, for the go-ahead goal and his record tying 14th goal in the history of the European cup. He now has scored 58 goals in all competitions.
Messi came close to grabbing his hat trick a minute later but could only watch as his shot just bounced wide. Milan almost could have leveled the score again when they were awarded a free kick from a dangerous area in stoppage time but Ibrahimovic's effort struck the wall and that was the end of that threat. Barça headed back to their locker room with a one goal lead but knew they could not afford to end this match in a draw.
Barça enjoyed 60% of the possession in the first half and that wouldn't change in the second half. They were awarded a free kick three minutes into the second half and Xavi's effort just missed wide. Nevertheless, Barça would grab the vital insurance goal in the 53rd minute courtesy of Iniesta. A fortunate deflection from a Milan player after Messi attempted a shot on goal and Iniesta was onside when he latched onto the ball before playing a superb first touch and slotted the ball past Abbiati for his second goal in the Champions League.
That goal took the wind out of Milan's sails as they could not muster any efforts on goals and could only slow down Barça with fouls. Milan would only have three shots with only one on goal throughout the match. In the 62nd minute, Guardiola made his first substitution when he took off Xavi for Thiago. Xavi's chances of playing in today's game were not high but he passed a late fitness test. However, Guardiola opted to go with the young energetic Thiago after an hour. In the 65th minute, Mascherano became the first Barça player to get booked but replays showed it was a harsh decision since his tackle revealed that he got all ball.
Three minutes later, Messi set up Thiago with a superb through ball and the young midfielder was through on goal but his shot just missed. Guardiola and the fans had to be concerned though in the 73rd minute when Pique gestured to the bench that he needed to be substituted when he felt discomfort in his leg. He was eventually replaced by Adriano. A few minutes later, Guardiola used his third and final substitution when he took off Cesc for Keita. Cuenca would be the next Barça player to get booked after pulling the shirt of Mexes.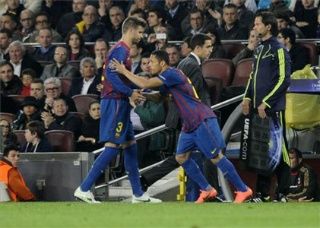 Barça threatened in the dying minutes of the match when Cuenca tried to set up Messi in front of the goal but Abbiati was wise to it and snuffed out that chance. Moments later, Alves's cross was perfect for Messi but Abbiati pulled off a remarkable effort to intercept the ball and deny Messi a hat trick. Abbiati though could only watch as Adriano, who was clear on goal, saw his effort aimed at the near post go wide. Milan had one final chance in the 88th minute but Valdés came up with a great effort to thwart a scoring chance. Barça's final scoring chance came in the first minute of injury when they were awarded a free kick outside Milan's box but Messi's free kick went over the wall and over the bar.
3-1 was the final score and Barcelona were celebrating a great milestone in becoming the second team to ever qualify for the Champions League Semi-Finals since the  great Real Madrid side of the 50's. Guardiola also became the third manager, along with Helenio Herrera and Vicente Del Bosque, to ever qualify to four consecutive Champions League Semi-Finals. Barça's opponent will be determined following tomorrow's encounter between Chelsea and Benfica. Barcelona will now shift their attention to league play when they travel away to Real Zaragoza this weekend.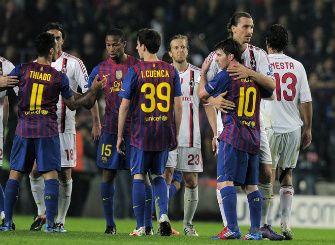 Next Game
| | |
| --- | --- |
| | |
| FC Barcelona | CF Villareal |
| Date: | 12/14/13 |
| Time: | 2:00 PM ET |
| Competition: | La Liga |
| Venue: | Camp Nou |
| TV: | beIN Sports |
| Watch Party Gathering: | Fritz & Franz Bierhaus |
Last Game
| | |
| --- | --- |
| FC Barcelona | Celtic FC |
| 6 | 1 |
| Competition: | Champions League |
| Date: | 12/11/13 |
Login Form
Powered by Joomla!. Designed by: Joomla Template, .tv domain. Valid XHTML and CSS.