Tue

17

Apr

2012

| | | | |
| --- | --- | --- | --- |
| El Anti-Idolo Series Part I: Fabio Rochemback. | | | |
Miami Penya's Alex Hoy kicks off his series about  some of the most disappointing players to ever represent the Blaugrana. Alex's first Anti-Idolo is the former player, Fabio Rochemback. 
As Ibrahim begins a retrospective on FC Barcelona's most distinguished performers, I will offer up its counterpoint by profiling the lesser lights to wear the blaugrana. First up is the thoroughly underwhelming Fabio Rochemback. Rochemback made his debut for Porto Alegre's SC Internacional at the tender age of 17. After steadily working his way into Inter's starting XI, Rochemback must have been thrilled to near death when he got the call from FC Barcelona. Though just shy of his 20th birthday, the supposedly versatile midfielder from Southern Brazil found himself defending the shirt of  the world's most important club.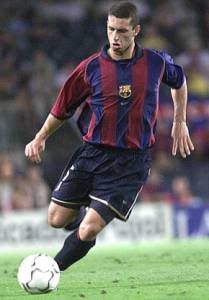 Rochemback set about underwhelming the faithful from day one. He managed 45 league appearances and three goals. He added one goal in Champions League play. Rochemback was out of his depth: he exhibited poor marking, inaccurate passing, indecisiveness, and obvious nerves. He was loaned to Sporting of Portugal in 2003. Supposedly he "developed" while wearing the green stripes, but I was fortunate enough not to see any of his action in Portugal. Stupidly, Barcelona kept him on the payroll until 2005, when his contract was picked up by English super power Middlesbrough.
Interestingly, Rochemback would go on to play for Gremio, the cross-town rivals of SCInternacional. Doing his best to emulate traitors such as Luis Figo and Sol Campbell, he even wore the armband as Gremio's captain. Currently, Rochemback is leaving his stain on the Chinese Super League.
Many fans were flabbergasted by Rochemback's signing and I remain mystified as to how heremained on the payroll for four terrible years. Newly minted Barcelona fans may not rememberthe lean years of 1999-2004 when we failed to collect silverware. Signings like Rochemback were emblematic of this disgraceful half decade.
Powered by Joomla!. Designed by: Joomla Template, .tv domain. Valid XHTML and CSS.