Thu

19

Apr

2012

| | | | |
| --- | --- | --- | --- |
| Vital Two Games Await Barça! | | | |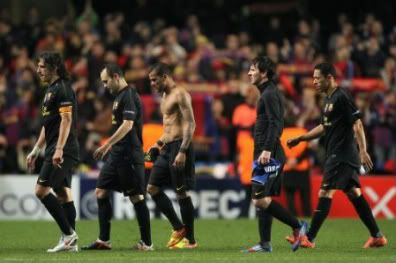 A lot of people had to be disappointed with Barça's result yesterday in London. They wasted their chances and could not make Chelsea pay for their mistakes. However, Barça paid the price when they were punished for what was their only mistake in the match that allowed Drogba to score.  Barça will now host Real Madrid on Saturday and then Chelsea on Tuesday. The season for Barça comes down to two must win games in the Camp Nou in less than a week. Their quest for another treble can result in the quest for Copa del Rey.
The 1-0 defeat was a huge disappointment. The game was there for Barça to win. They had faced this type of opposition before. At times, they had been successful and at times they had not. Alexis and Pedro hitting the woodwork, Barça's worst nemesis this season, coupled with Alexis, Cesc and Busquets missing what appeared to be great scoring chances can only make you wonder "what if". , Barça paid the price when they were punished for what was their only mistake of the game after Messi, obviously still suffering from a slight injury, lost possession which resulted in Drogba scoring.  Their first leg result was a bitter disappointment. However, Pep and his men cannot dwell too much on it because they have El Clásico on Saturday to prepare for before facing Chelsea again.
If this seems familiar to you, then it should. This is exactly 2008-2009 all over again. Barça faced Chelsea twice with an El Clásico sandwiched in between. Barça also suffered a disappointing result against Chelsea after their scoreless first leg draw at the Camp Nou before playing Real Madrid and Chelsea again. They also had a Cope del Rey final against Athletic Bilbao to look forward to. Quite eerie indeed and it seems that the treble season is flashing before our eyes again.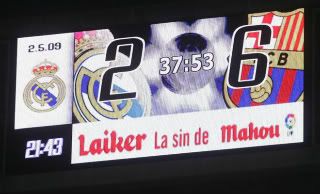 The one big difference is that unlike the treble season, Barça will have to get it done at home. Back then, their big games took place away in Madrid and away in London. Barça destroyed Madrid 2-6 to give it some extra breathing room in their quest for the league title and then Iniesta's goal in the dying seconds ensured Barça would advance by away goals to the Champions League final and effectively create a huge surge in births in Barcelona nine months later.
Barça are in a somewhat familiar situation with the sole difference being that there is no road trip.  These next two games at the Camp Nou are vital must win games. Barça's chances of winning the Spanish league rests with a victory over their arch rivals. Barça's chance of winning the Champions League rests with a victory over Chelsea. Of course, that's easier said than done. Winning those games does not mean that they clinched titles; just that they are a step closer.
Of course the big question is can they do it? Saturday's big game will be the first time Madrid have played a league game at the Camp Nou since the 5-0 victory which feels like it took place ages ago but it was in fact just last season. The Chelsea loss was tough but it's not the end of the world. Barça previously played Chelsea back in the 1999-2000 Champions League Quarter-finals. Pep, Xavi and Puyol were part of that team that lost the first leg at Stamford Bridge 3-1. They hosted Chelsea in the second leg and defeated them 5-1, in extra time, to advance to the Semi-Finals. So it's not over by any means. Another example is when Juventus lost their first leg Semi-Final away to Real Madrid before eliminating them in Italy with a victory back in 2002-2003. So a loss away is not the end of the world. There's still a second leg to be played.
Hopefully the players learned from this bitter loss that you cannot be impotent in front of the goal. Messi is amazing but he cannot do it all on his own and others have to step it up. One costly mistake is enough to eliminate your chances at silverware. I also hope Pep abandons the idea of Iniesta as a left winger and starts him in the midfield where he belongs with Cesc relegated to the bench again. The season is coming to an end and Barça can easily compete for all three titles and can also lose all three this season. Nothing has been decided yet but these next two upcoming home games might cause them to be out of the running for at least two of the three titles.
Next Game
| | |
| --- | --- |
| | |
| FC Barcelona | Celtic FC |
| Date: | 12/11/13 |
| Time: | 2:45 PM ET |
| Competition: | Champions League |
| Venue: | Camp Nou |
| TV: | FOX Sports |
| Watch Party Gathering: | Fritz & Franz Bierhaus |
Last Game
| | |
| --- | --- |
| FC Cartagena | FC Barcelona |
| 1 | 4 |
| Competition: | La Liga |
| Date: | 12/6/13 |
Login Form
Powered by Joomla!. Designed by: Joomla Template, .tv domain. Valid XHTML and CSS.