Fri

27

Apr

2012

| | | | |
| --- | --- | --- | --- |
| Tito Vilanova to replace Pep Guardiola for the upcoming season. | | | |
FC Barcelona announced today that this season will be Guardiola's final season as manager of FC Barcelona. Pep Guardiola had announced to the squad and club president Sandro Rosell today that he will not be staying with the club when his contract runs out on June 30. Guardiola, Rosell and sporting director Andoni Zubizarreta attended a press conference following this morning's training session where Guardiola explained his reasons for leaving. It was then announced that Guardiola's current assistant, Tito Vilanova, would be his successor.
After four years in charge of the first team, Pep Guardiola will be leaving Barça on June 30. He announced his decision this morning to president Sandro Rosell and then to his squad before the morning training session. Afterwards, Rosell, Guardiola and Zubizarreta gave a press conference in the Ricard Maxenchs pressroom in the Camp Nou.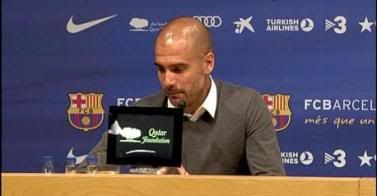 Guardiola's decision to leave at the end of the season ends an extraordinary successful four-year spell which saw the club succeed domestically and abroad. Guardiola explained his reasons for leaving to the media and in the presence of some of his players.
"I'm sorry for the confusion in recent weeks. I've always wanted short contracts because the demands at Barcelona are so big"
"Now we were out of the two main competitions, it was a good time to announce it"
"The reason is simple. Four years, that gets everyone tired. The new coach will give things that I can't give anymore."
"I am really sorry about having lost that energy but I cannot lie to myself if I don't have the same energy and excitement as the beginning and I knew from before it was my last season."
Sandro Rosell meanwhile expressed his "eternal gratitude" to the coach for the "happiness" he has given the club. Rosell then announced that Tito Vilanova, Guardiola's right hand man, will be the next manager of the Barça first team after Guardiola steps down. "We chose Tito because he represents the idea and the image," sporting director Andoni Zubizarreta said. "He has commitment and personality."
Guardiola leaves the club as the most successful manager in FC Barcelona history, after achieving the biggest trophy haul in club history with two UEFA Champions Leagues, three Spanish League titles, two FIFA Club World Cups, two UEFA Super Cups, one Copa del Rey and three Spanish Super cups. Guardiola has a chance to add to his tally of 13 trophies won when they face Athletic Bilbao in the Copa Del Rey Final next month.
The Miami Penya wishes to send its thanks and gratitude for all that Pep Guardiola has done for the club and wish him luck on whatever he does next. Gracias Pep. The Penya also welcome the news that Tito Vilanova will succeed Pep for next season and wish him the best of luck as well.
Next Game
| | |
| --- | --- |
| | |
| FC Barcelona | CF Villareal |
| Date: | 12/14/13 |
| Time: | 2:00 PM ET |
| Competition: | La Liga |
| Venue: | Camp Nou |
| TV: | beIN Sports |
| Watch Party Gathering: | Fritz & Franz Bierhaus |
Last Game
| | |
| --- | --- |
| FC Barcelona | Celtic FC |
| 6 | 1 |
| Competition: | Champions League |
| Date: | 12/11/13 |
Login Form
Powered by Joomla!. Designed by: Joomla Template, .tv domain. Valid XHTML and CSS.