Well, it's official. Josep "Pep" Guardiola will be leaving the club at the end of the season. Even though we all knew it was bound to happen, the fact that it will finally happen surprised us all. So Pep leaves but the question of who will replace was swiftly taken care of after it was announced that his assistant, Tito Vilanova, was going to take over. That was another surprise but a pleasant one. So Pep leaves us but this does not mean the end of an era. In the end, thank you Pep for four wonderful unforgettable years that made us Cules proud.
When FC Barcelona announced that Pep was going to return to the club to coach the B team, I was thrilled. An icon like Pep should always be involved with the club. When Rijkaard started losing the plot, I thought it was time for Pep to replace him ahead of the Semi-finals clash against Manchester United. Sadly, that never happened but it was announced afterwards that Pep was going to replace Rijkaard for the upcoming season and I was elated.
There's no need to go through what he has done over the years. He has battled through many coaching battles and had his share of success and minor disappointments. We all knew Pep was the right man to steer the ship back on course and that he did and then some. This past week was a tough week on all of us Cules. The two recent games against Chelsea with an El Clásico sandwiched in between were reminiscent of what Pep faced in his first season. Back then, his side played to a scoreless draw at the Camp Nou before going to Madrid to pull off the impressive 6-2 win before punching their ticket to the 2009 Champions League Final in Rome with a 1-1 draw against Chelsea at the Stamford Bridge.
This year was different. Barça were the hunters, not the ones hunted. Barça were not league leaders and also lost to Chelsea in the first leg at Stamford Bridge. Back then, they had to get the job done away. This year, they had to win their next two at the Camp Nou. Sadly, they lost to Real Madrid at home and then squandered a 2-0 lead to Chelsea and crashed out of the Champions League following a 2-2 draw. Thus, their league and Champions League aspirations came to a crashing halt.
Pep then said he would make a final decision if he would come back. The signs were there that he was going to come back. The club had decided not to have a summer tour, which Pep was never a fan of, to give the players some rest. Additionally, the fixture next season would be more relaxed and it's no coincidence that Pep's two Champions League titles came in the years where there was no International tournament going on in the summer that saw most of his players involved in. There was talk that Pep realized he needed a bigger squad and would get some more players. So, when word leaked out on Thursday that he would leave, I was shocked.
This season was tough on Pep. Summer tour where the team played in three countries along with games in Monaco and Japan was tough on his players. He also was not impressed with the league having different standards regarding officiating and their lack of back bone in disciplining the bad actions of others. You also know he wasn't too pleased when some at the club were criticizing the officiating to the media while he was saying he doesn't talk about referees.
Ultimately, Pep basically said he was burned out and needed to step away. For that, I commend him. Guardiola was never going to be Barça's version of Alex Ferguson. The man loves life and loves to explore. He played in Italy, Qatar and Mexico after he left Barça and there was always talk that he wanted to coach in Italy and England. Everyone believes he will take a year off before he decides what to do. Will he coach Spain at the next World Cup in Brazil? Will he replace Alex Ferguson at Manchester United? Will he coach in Milan for either side? That's the luxury of being Pep; he can pick and choose where to go next.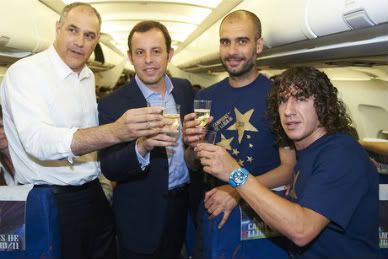 Of course, the news that Pep was going to step down after this season does not mean it is the end of an era. Nothing could be farther than the truth. The decision to appoint Tito Vilanova was a great move and I have to admit that Barça president Sandro Rosell got it right. I don't agree with a lot of things that Rosell does but I have no problem admitting he did the right thing. I was worried how the players would respond to a new manager. Bielsa was the popular choice to replace Pep but he is considered a bit of an odd ball, hence the nickname "El Loco". Valverde never coached a big club in Spain while Blanc was a good name but was he ready to manage Barça? André Villas-Boas was another candidate but the way things went sour for him in Chelsea probably made it soon. I even had doubts about one of my all-time favorite Barça players, Luis Enrique, replacing Pep. His first go at a top managerial position with Roma has been mixed and his recent behavior with the Italian press made me question how he would cope with the pressure of managing Barça.
Fortunately, Rosell put an end to all the guessing when he surprised us all with the news that Tito would replace Pep. I was surprised because I never thought he was the type that wanted the job as he seemed happy to be Pep's right hand man. Fortunately for all of us, Tito accepted and will be running the show next season. That was the best choice since all the players know him and he also knows the player so there wouldn't be that awkward phase of both getting to know each other. Only concern will be how Tito handles the spotlight now especially with the media.
But it's not an end to an era. A change at the helm does not signify the end of an era. Ajax Amsterdam showed us that when they went on to win two consecutive Champions League titles under Ștefan Kovács after Rinus Michels left to manage Barça after guiding Ajax to their first Champions League title. Milan showed us that when Fabio Capello replaced Arrgio Sacchi and went on to win four league titles and guided them to two Champions League finals which he won in his second final against Cruyff's Dream Team in 1993-1994. I agrred with this comment - "Hopefully Tito Vilanova will become Barça's Fabio Capello to Pep's Arrigo Sacchi", as one reader commented on Sid Lowe's piece about Pep stepping down. 
Now some would argue that those managers were replaced by other managers and not their assistants. Well, Liverpool managed to show that it can be down. After the legendary Bill Shankly stepped down, because he too was exhausted with the demands, his assistant Bob Paisley. Liverpool had won three league titles, two FA Cups and a UEFA Cup during Shankly's era and Paisley went on to win an astonishing six league titles, one UEFA Cup and an incredible 3 Champions League titles. Consequentially, when Bob Paisley stepped down, his replacement was another assistant, Joe Fagan who went on to win another league title and a Champions League title. He would later step down while current Liverpool manager, Kenny Dalglish took over to win additional league titles. Could we see that with Xavi?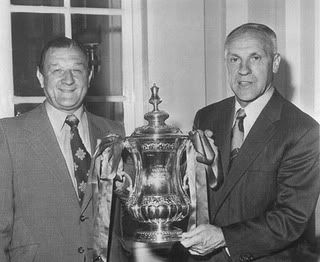 Liverpool's Paisley and Shankly
We have been truly blessed to have Pep as our manager. He not only came to the team's rescue but he inspired this team to become world giants. His era will be remembered along with the other giants of football such as Ajax and Bayern of the 70s, Sacchi's Milan, Real Madrid of the 50's and others mentioned in this column. His last remaining games should be enjoyed by the fans with the Copa final as his final chance to add to his impressive tally. The future is now in the hands of Tito Vilanova and we hope that he and the players continue to make us Cules proud of our team and continue to succeed.
Pep to Tito - A passing of the torch
So thank you Pep for sacrificing four years of your life to manage this team the way you have. It was no easy achievement given the history of the club when it comes to managers. You gave it your best and rewarded us Cules with four wonderful unforgettable seasons. You were not only a manager but deep down; you also coached the team as a fan and a player. We have seen you grow up with the club as a ball boy, a young player and mature as a leader on the pitch and off of it. You deserve a break and hope you get to enjoy it and then come back to football. I hope that this is not a goodbye but more of see you again soon. Gracias Pep!
Next Game
| | |
| --- | --- |
| | |
| FC Cartagena | FC Barcelona |
| Date: | 12/6/13 |
| Time: | 4:00 PM ET |
| Competition: | Copa del Rey |
| Venue: | Cartagonova |
| TV: | beIN Sports |
| Watch Party Gathering: | Fritz & Franz Bierhaus |
Last Game
| | |
| --- | --- |
| At Bilbao | FC Barcelona |
| 1 | 0 |
| Competition: | La Liga |
| Date: | 12/1/13 |
Powered by Joomla!. Designed by: Joomla Template, .tv domain. Valid XHTML and CSS.