Wed

09

May

2012

| | | | |
| --- | --- | --- | --- |
| Puyol's knee injury rules him out of Copa del Rey Final and Euro 2012. | | | |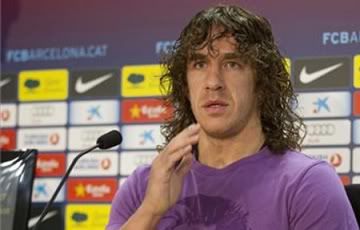 FC Barcelona & La Roja fans were disappointed to learn that Carles Puyol will be out of action for six weeks following a knee injury in the Barcelona derby. This injury will effectively rule him out of the Copa del Rey Final scheduled for May 25th and also will miss out defending Spain's title of European champions in the upcoming Euro 2012. However, Puyol spoke to the media today and emphasized that was not retiring from the Spanish national team. 
Puyol's season came to a halt yesterday when it was announced by Barça that the captain of the team will undergo knee surgery which will sideline him for six weeks. Puyol felt discomfort in his right knee in Barcelona's victory over Espanyol last Saturday and the club announced that following complementary tests, it was decided that Puyol would undergo arthroscopy surgery on this Saturday. The surgery will be directed by Doctor Ramon Cugat. 

Almost a year ago, Puyol underwent arthroscopy on his left knee in order to remove loose cartilage from his femoral trochlea after missing almost all of the second half of the 2010-2011 season to injuries. His return came on September 13 for the UEFA Champions League game against AC Milan. This season was going well for Puyol who featured in 44 matches in all competitions and scored a career high 5 goals.

Puyol has 99 caps and has played for Spain at all major championships since the 2002 World Cup. The 34 year old defender was also one of the team captains and  has been a reliable presence in the Spanish back line for more than a decade and scored the winning goal in the 1-0 World Cup Semi-final victory over Germany at the 2010 World Cup. Puyol spoke to the media today about his injury.

"To be honest it's going to be very tough, but I have to wait and see how the operation goes"
"But I think it's impossible because when you come out of an operation there is a recovery period and I believe that those who are in better shape should go"

"I am not saying I am retiring or not retiring from the national team"

"Right now the operation is the important thing and later we'll see. It's not only my decision"

Next Game
| | |
| --- | --- |
| | |
| FC Barcelona | Celtic FC |
| Date: | 12/11/13 |
| Time: | 2:45 PM ET |
| Competition: | Champions League |
| Venue: | Camp Nou |
| TV: | FOX Sports |
| Watch Party Gathering: | Fritz & Franz Bierhaus |
Last Game
| | |
| --- | --- |
| FC Cartagena | FC Barcelona |
| 1 | 4 |
| Competition: | La Liga |
| Date: | 12/6/13 |
Login Form
Powered by Joomla!. Designed by: Joomla Template, .tv domain. Valid XHTML and CSS.