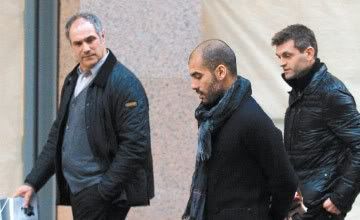 With Pep stepping done, what will be next for Barça? Many questions will arise after the Copa del Rey Final regarding the future of the team and who will be in control of all the decisions. Euro 2012 will serve as a welcome, but temporary distraction regarding transfer talks and players leaving the club. Unfortunately, this summer will be different and one with winds of uncertainty.
Pep is gone and Tito is now in charge. However, will he truly be in charge? We all know that Pep was the man who had most control of the team barring the Chygrynskiy transfer. However, with Tito in charge, will he have final say or will he take a back seat to Rosell and Zubizarreta regarding who stays and who leaves? You felt that Pep would not allow the club to get rid of players that he liked such as Keita.
Now, players like Dani Alves, Pedro and a few others are no longer considered untouchable. I hope that Rosell, Zubi and Tito work together as a team and not become like Real Madrid of 10 years ago that got rid of players such as Makélelé without the manager knowing and signed big name stars instead for image reasons. That would be the downfall of this club if there is no clear co-operation between all three figures. Will Rosell begin phasing out players from the Laporta & Pep era and start building his own team or follow the blueprint Pep left and tinker a bit along with the suggestions from Tito?
Summer is around the corner which means multiple names will be rumored to be joining the club. Thiago Silva, David Luiz, Jordi Alba, Adrian, Drogba, Gareth Bale and Robin van Persie are among the names mentioned to be joining Barcelona this summer while Keita, Adriano, Dani Alves, Pedro and Pique have been rumored to be on the shopping block. Rumors can a pain to deal with since we never know which one is true and not. Perhaps no one will leave the squad with the sole exception of Keita.
So brace yourself for a unique summer. Pep will not be there to instruct the club who to go after. His era has ended. For the first time in four years, we will be entering a summer of uncertainty. Will Tito come out and say which players are no longer wanted at the club? Will Rosell bypass Tito's advice or suggestions and sign what he wants? We don't know and won't know but here's hoping that they do the right thing; whatever that may be.
Next Game
| | |
| --- | --- |
| | |
| FC Barcelona | Real Valladolid |
| Date: | 5/19/13 |
| Time: | 3:00 PM ET |
| Competition: | La Liga |
| Venue: | Camp Nou |
| TV: | beIN Sport |
| Watch Party Gathering: | Fritz & Franz Bierhaus |
Last Game
| | |
| --- | --- |
| At Madrid | FC Barcelona |
| 1 | 2 |
| Competition: | La Liga |
| Date: | 5/12/13 |
Powered by Joomla!. Designed by: Joomla Template, .tv domain. Valid XHTML and CSS.