Match Report
Sun

12

May

2013

| | | | |
| --- | --- | --- | --- |
| FC Barcelona celebrates league title with 2-1 victory against Atlético Madrid. | | | |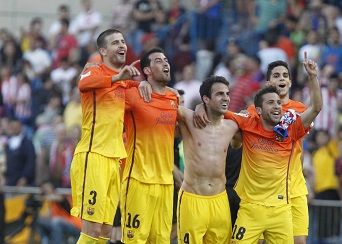 Barça celebrated their league crown by coming back and defeating Atlético Madrid 2-1 after being a goal down. Falcao opened the scoring in the 51st minute after both sides played to a scoreless first half draw. Barça were facing an uphill battle by being down a goal when they had to play the rest of the half with 10 men after Messi left the match with an injury. All the substitutions had been used prior to that injury but Barça kept on fighting and grabbed the equalizer in the 72nd minute courtesy of Alexis.  Seven minutes later, Barça took the lead for good when David Villa's effort on goal took a slight deflection from Gabi for the own goal game winner. Messi rejoined the bench and no word yet on how severe the injury is. Players began celebrating on the Calderon pitch after the final whistle blew. This was the club's 22nd league conquest with three league matches to go with a home encounter against Real Valladolid next weekend.
Read more...
Sun

05

May

2013

| | | | |
| --- | --- | --- | --- |
| Messi inspires Barça 4-2 comeback victory over Betis. | | | |
FC Barcelona inched closer to capturing their 22nd Spanish league title after defeating Real Betis 4-2. The victory came down to another performance from Messi who entered the game when it was 2-2 and scored two goals to ensure the victory. Betis delivered an early sucker punch to the Blaugrana in front of their fans at the Camp Nou when they took the lead after two minutes. Pabón gave his sides the lead after he latched on to a long ball that Song missed while Adriano and Pinto were caught in no man's land, which allowed the Betis player to slot it past Pinto. Barça would equalize five minutes later when Alexis headed in Iniesta's cross. Betis would recapture the lead two minutes before the break when Rubén Pérez scored an amazing goal from way outside the box. Barça though would perform better in the second half and Villa scored the equalizer in the 55th minute when he headed in Dani Alves's cross to make amends for his missed chances in the first half. Messi would then replace Villa a few moments later and give his side the lead for good at the hour mark with a superb free kick goal and then score the much needed insurance goal eleven minutes later following some ball movement that resulted in Messi scoring from close range. This victory ensured that Barça maintained their 11 point lead atop of the standings and could clinch the league crown if Real Madrid falls to Malaga on Wednesday. If not, then Barça get their chance to clinch the title in Atletico Madrid's Calderon stadium next weekend.
Read more...
Wed

01

May

2013

| | | | |
| --- | --- | --- | --- |
| Barça crash out of Champions League with 3-0 loss to Bayern. | | | |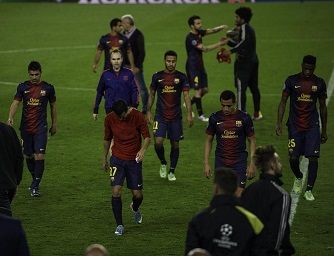 Bayern Munich completed their dominance over FC Barcelona with another one sided performance following their 3-0 victory at the Camp Nou.  After a scoreless first half, Arjen Robben gave Bayern the lead in the 48th minute before an own goal from Pique made it 2-0 in the 72nd minute. Thomas Muller then scored the third and final goal of the evening a few minutes later. Barça's Wembley dreams went from being shattered to being obliterated after a 7-0 aggregate that did not see Messi feature at all in the second leg. Barça will now have to try to put this humiliating defeat behind them and focus on Real Betis when they come to the Camp Nou this Sunday.
Read more...
Sat

27

Apr

2013

| | | | |
| --- | --- | --- | --- |
| Barça squander late lead against Bilbao to postpone league title. | | | |
FC Barcelona were minutes away from celebrating capturing the league title but their lack of concentration came back to haunt them again when Herrera scored in the 89th minute to salvage a draw for Bilbao. This was Barça's final appearance in Athletic Bilbao's San Mames stadium and the Blaugrana guests were down in the first half courtesy of a Susaeta goal. Barça were struggling to make an impact but that all changed when Messi came off the bench right before the hour mark. His impact would be felt in just minutes after he scored an amazing goal and then played a part in Alexis scoring the go-ahead goal. However, Barça lacked focus paid the price with the Susaeta goal which delayed the club celebrating another league conquest. Barça will have to wait till next week to win the league title against Real Betis but now they have to shift their attention to Wednesday's Champions League tie where they host Bayern Munich.
Read more...
Tue

23

Apr

2013

| | | | |
| --- | --- | --- | --- |
| Barça European Dreams Shattered After Bayern 4-0 Defeat. | | | |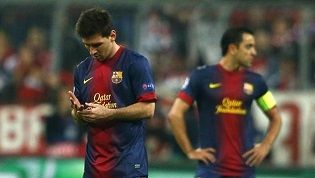 Barça's chances at advancing to the Champions League Final were severely dented after Bayern Munich demolished a subpar Barcelona 4-0 in the first leg of their Semi-Final clash at the Allianz Arena. Thomas Muller scored the opening goal in the first half and grabbed his brace in the second half after Mario Gomez and Arjen Robben also scored in the second half. Barça did not have much to show for their efforts with Messi clearly not 100%. Barça will now have to recover from this disappointing defeat when they travel to Basque country to face Athletic Bilbao on Saturday before hosting Bayern on Wednesday.
Read more...
Sat

20

Apr

2013

| | | | |
| --- | --- | --- | --- |
| Barça leave it late to beat Levante 1-0. | | | |
FC Barcelona hosted Levante today in a difficult match where Cesc helped Barça edge a 1-0 victory with his in the final minutes of the match.  Barça did squander an early chance to grab the lead when David Villa saw his penalty effort stopped by the Levante keeper, Navas, and then blocked Cesc's follow up. Nevertheless, Barça managed to grab the winner in the 83rd minute courtesy of Cesc thanks to the hard work from the substitute Alexis. Barça will now shift their focus for their important clash in Germany against Bayern Munich on Tuesday.
Read more...
Sun

14

Apr

2013

| | | | |
| --- | --- | --- | --- |
| Barça stroll to a 3-0 victory against Real Zaragoza. | | | |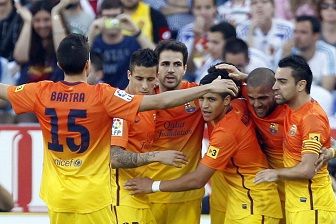 FC Barcelona made light work today with a lineup consisting of backups after defeating Real Zaragoza 3-0. Thiago opened the scoring in the 20th minute while Tello scored a goal in each half to give their side the victory and ensured they remained 13 points ahead of Real Madrid atop of the standings with 7 games remaining. Barça will now enjoy a nice week rest before hosting Levante on Saturday before traveling to Germany to face Bayern Munich in their first leg of the UEFA Champions League Semi-Finals.
Read more...
Sun

03

Mar

2013

| | | | |
| --- | --- | --- | --- |
| Barça suffer another Clásico loss. | | | |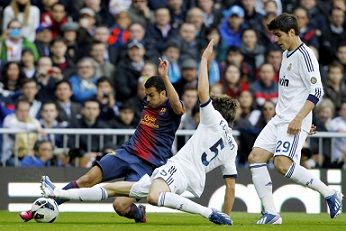 FC Barcelona suffered their second consecutive loss to Real Madrid this week after falling to their arch rivals 2-1. Barça's tendency to surrender soft goals remerged when the back four failed to deal with Morata's cross that Benzema converted for the opening goal after 6 minutes. Barça though fired back in the 17th minute when Messi grabbed an equalizer to tie Di Stefano as the all-time top scorer in the history of El Clásico with 18 goals and has now scored in 16 consecutive league matches. Barça though would never threaten again and their second half was one to forget as they failed to muster a shot on goal. Real Madrid snatched the victory in the 82nd minute when Sergio Ramos headed in the winner during a corner kick. Barça though were denied a chance to equalize in stoppage time when Ramos brought down Adriano inside the box only for the referee to waive play. Things then turned ugly when Valdés was shown a red card for arguing with the referee after the final whistle had been blown. His outburst will result in him possibly missing four matches. Barça will now have a week to prepare for their next encounter against Deportivo La Coruña before their vital second leg clash against Milan on Tuesday.
Read more...
Sun

19

Aug

2012

| | | | |
| --- | --- | --- | --- |
| Barça kick off their league campaign with 5-1 victory over Real Sociedad. | | | |
FC Barcelona kicked off the 2012-2013 season with a 5-1 drubbing of Real Sociedad that saw the return of David Villa. Captain Puyol opened the scoring just after four minutes when he headed in a corner kick for the first goal of the season. Sociedad equalized five minutes through Castro but Messi then grabbed a brace by scoring in the 10th and 15th minute before Pedro scored the fourth goal five minutes before the halftime whistle. The second half saw Barça play a more conservative approach but it was the introduction of David Villa in the final quarter of the match that became the focal point of what was left in the encounter. Villa's return turned into a fairy tale when he scored with six minutes to go for the final goal of the match. 5-1 and with Madrid drawing at home to Valencia 1-1, Barça temporarily ensured the top spot in the league standings.  Barça play tomorrow in the annual Gamper Trofeo before they set their sets on Real Madrid this Thursday when they host them in the first leg of the Supercopa.
Read more...
«

Start

Prev

1

2NextEnd »
Page 1 of 2
Powered by Joomla!. Designed by: Joomla Template, .tv domain. Valid XHTML and CSS.